E Bike 500 Watt Motor
Wholesale Price ( Piece ):
Description
Electric bicycle conversion kit bafang bbs02 mid drive motore bike 500 watt motor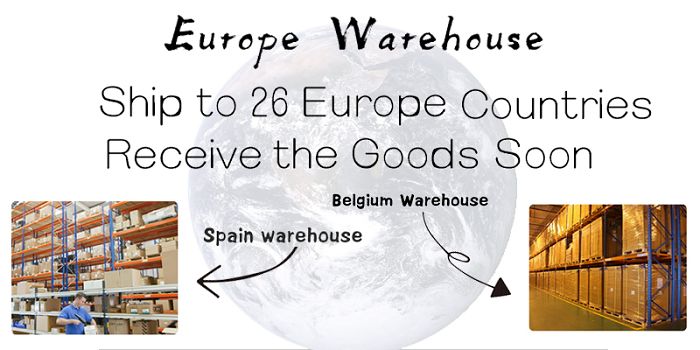 We have in stock in Spain and Belgium Warehouse. if you need shipping from Spain or Belgium, please contact us in advance.
Product list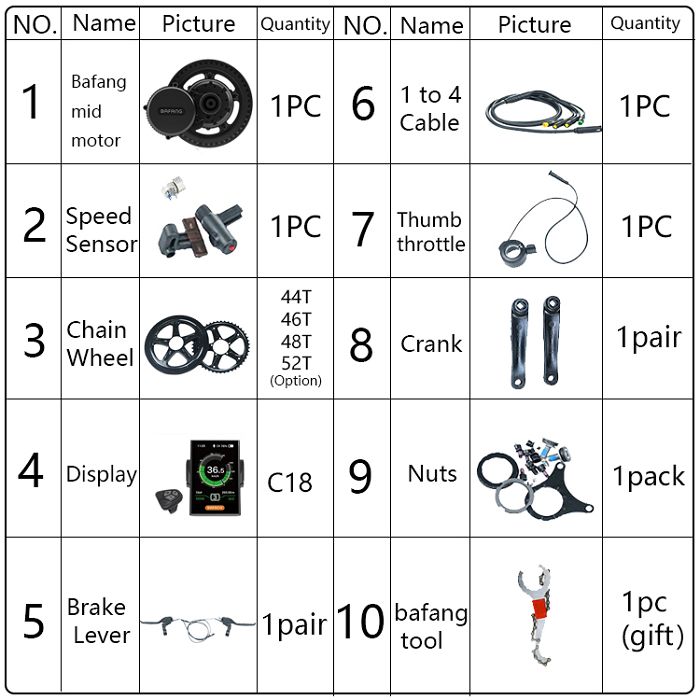 1.Lithium Battery
48V:24.5AH-Samsung
2.Charger:US/UK/AU/EU
3.Motor Battery Connection Cable(Anderson / Bullet interface)
Product Paramenters
| | |
| --- | --- |
| Motor | 48v 500w |
| Bracket bottom length | 68mm |
| No Load Speed(RPM) | 126 |
| Load Speed(RPM) | 118 |
| MAX Torque | 100N.m |
| Efficiency (%) | ≥ 80 % |
| Certificate | ROHS,CE |
| Operating Temperature | -20-45℃ |
| Gross weight(kg) | 12 |
| Package size | 250-750W: 45*20*40cm |
| Warranty | 1 year for the motor |
| IP | IP65 |
| Noise grade | <55 |
| Operation Temperature | -20-45℃ |
| Reduction Ratio | 1 : 21.9 |
| Battery size | 368*90*141mm |
E bike 500 watt motor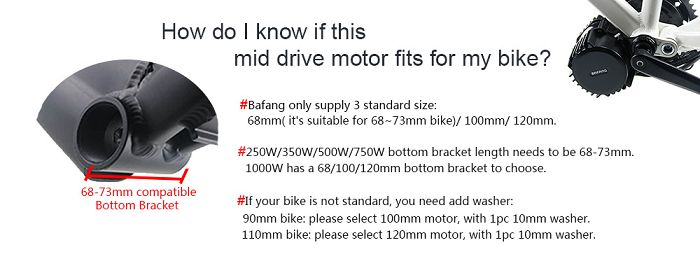 The mid motor has speed sensor and built-in controller; it has high efficiency, low power consumption and long driving mileage. 1. Motor operating conditions The motor should be able to work normally under the following environmental conditions: 1. Ambient temperature: (-25—+55) ℃; 2. Relative humidity: (15—95) %RH.
Details Images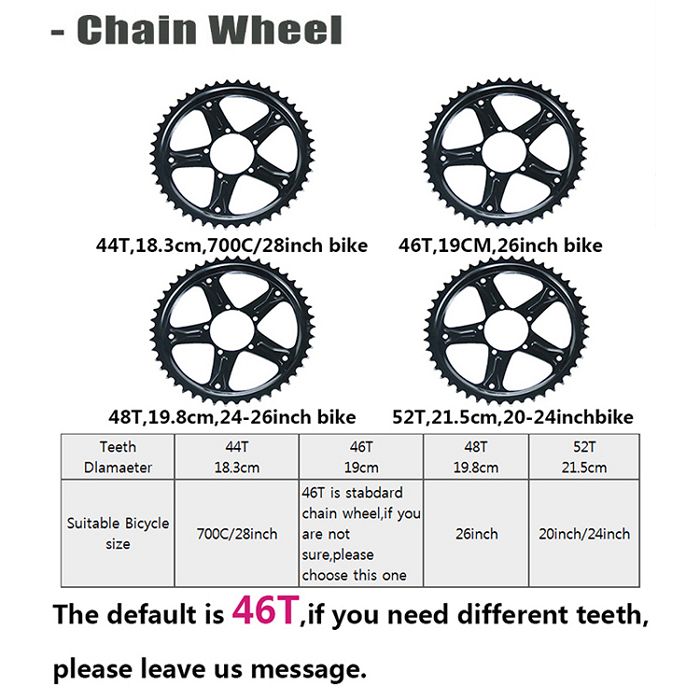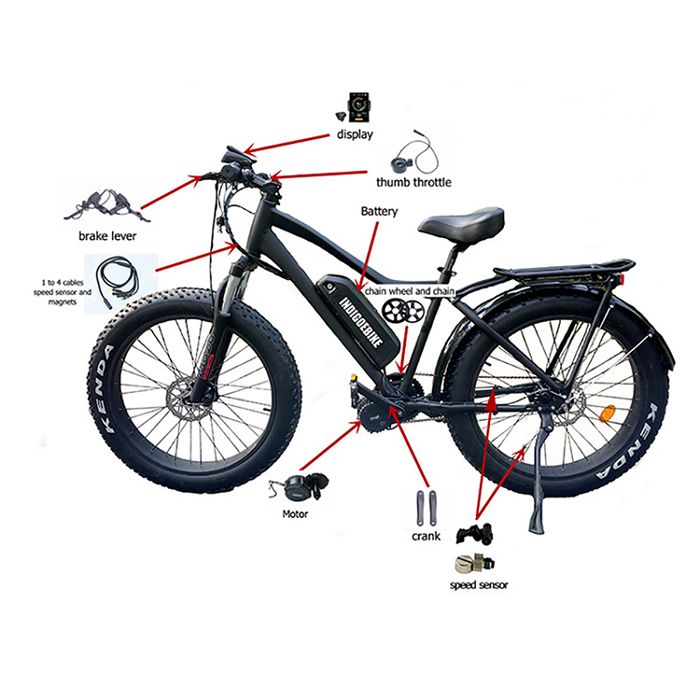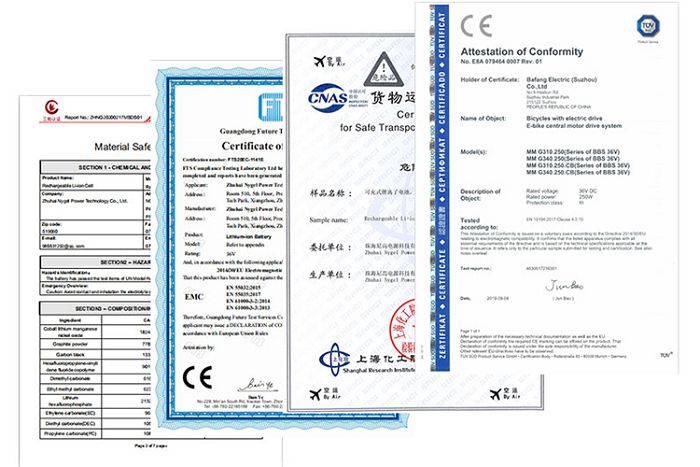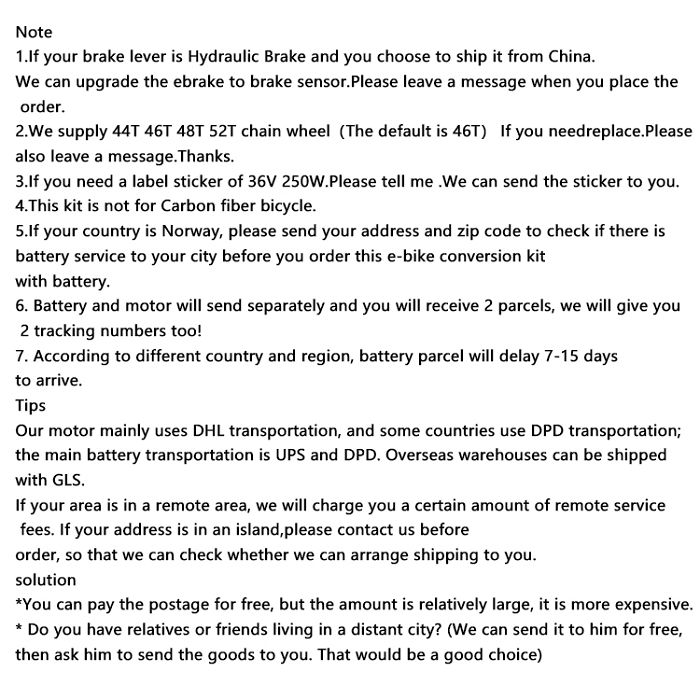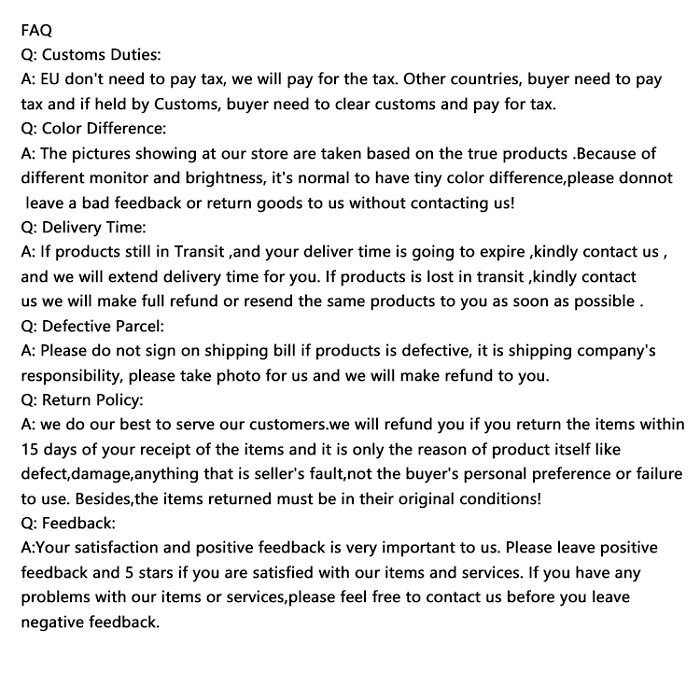 The more technologically advanced mid-mounted motor, which is a combination mechanism of internal gears, uses multiple clutch gears inside the motor housing to form a variable-speed ratchet, which increases its output torque and has higher load and climbing power. And its torque sensor is also more sensitive, sensing changes in the pedaling force of the crank, which will directly act on the central axis and accelerate faster.
Since the overall basic speed change and transmission structure of the bicycle has not been changed, the rider can also cooperate with the vehicle's original mechanical rear speed change mechanism and use it in conjunction with the central assist to achieve higher riding efficiency.
The steadily rising procurement demand and product supply have linked the development of suppliers and customers, and promoted the development of upstream and downstream enterprise chains; energy-saving and emission-reduction products are sold globally, and actively assume their own social responsibilities for creating a green ecological environment and contributing to an ecological planet Make a contribution. Hangzhou Indigo uses practical actions to fulfill its social responsibilities and promote the harmonious and stable development of the enterprise and society.
Integrate social responsibility into enterprise development, and create more social value while creating enterprise value.
We support Paypal, VISA, Mastercard credit card, T/T, Online Transfer, Apple Pay, Western Union WU, Boleto, bank transfer and multiple payment methods.
Hot Tags
e bike 500 watt motor, China, customized, wholesale, buy, price, bulk, quotation, in stock, EU warehouse
RATING & REVIEWS
0 %
of customers recommend the product
RATING BREAKDOWM
5 STARS 0
4 STARS 0
3 STARS 0
2 STARS 0
1 STARS 0